NEW YORK BLACK PANTHER 21 CONSPIRACY TRIAL" WERE ACQUITTED ON MAY 12, 1971 OF ALL 156 CHARGES
CELEBRATING THE 50TH ANNIVERSARY 
FOR THE 1968 FOUNDING OF THE NEW YORK STATE CHAPTER OF 
ON THIS DATE…
THE MEMBERS OF "THE NEW YORK BLACK PANTHER 21 CONSPIRACY TRIAL" WERE ACQUITTED ON MAY 13, 1971 
OF ALL 156 CHARGES IN WHAT WAS AT THE TIME THE LONGEST POLITICAL TRIAL IN THE HISTORY OF NEW YORK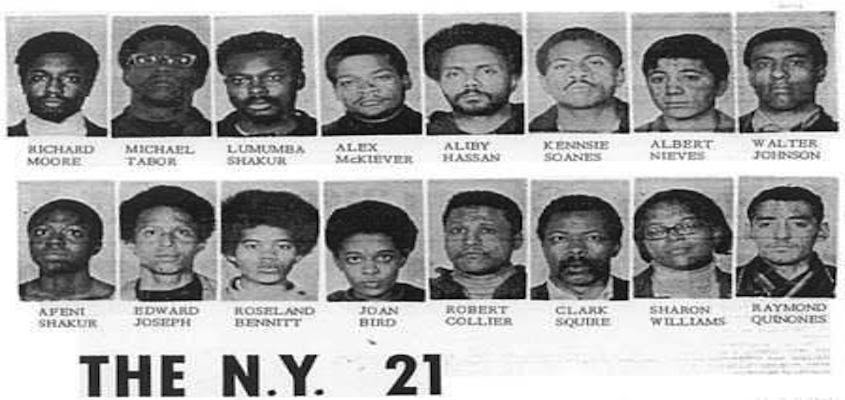 (Pictured Above In The Front Row From Left to Right), Black Panther Party Leaders Afeni Shakur, Dhoruba Bin Wahad & Jamal Joseph Speaking
At 
A Benefit 
Support Rally 
For The Remaining "NY 21 Panthers" Who Were Still Being Held 
In Prison With Collectively Almost 1.4 Million Dollars In Ransom Bail Being Charged & or Over 2 Years Of Capture. Unfortunately, even with the acquittals a number of the Panthers were forced to go underground due to the FBI's Illegal COINTELPRO & NEWKILL Operations.
(Pictured Below), The Black Panther Newspaper Front Cover and A Rally Supporting The Panther 21 Outside The Manhattan Criminal Court House.
In 1969, 21 members of the New York State Chapter of the Black Panther Party were rounded up and indicted on multiple trumped up charges of violent acts and conspiracies. The membership of the NY 21, which included Afeni Shakur, the 
mother of Tupac Shakur, is largely forgotten and unknown. Their legacy, however, reflected upon here in this special 
reprinted edition of the original book, "Look For Me In The Whirlwind" which also includes new writings from veteran 
Black Panthers Mumia Abu Jamal, Sekou Odinga and Dhoruba Bin Wahad. This book provides essential truths which 
have remained largely hidden and is a must read for every social justice activist in general and every revolutionary 
New Afrikan & Black Liberation freedom fighter in particular, in our continuing struggle for Independence, Liberation, 
Self-Respect, Self-Defense and Self-Determination in Amerikkka.
SO YOU NEED TO BUY & READ THIS BOOK!
YO!  MARK YOUR CALENDARS TO SAVE THE DATE & RSVP RIGHT NOW BECAUSE
THE NEXT BLACK PANTHER PARTY VETERAN LED 
"FREE"
 TOUR OF HARLEM'S 
"BLACK POWER EXHIBIT" IS HAPPENING ON SATURDAY, MAY 26, 2018 
@

2:00 PM
At Harlem's Schomburg Center For Research In Black Culture 
(ABOVE) Veteran Members Of The Original Black Panther Party During The 2017 Opening Of The Exhibit
The Schomburg Center For Research In Black Culture 
(ABOVE) A DISPLAY WITH HUEY P. NEWTON, BOBBY SEALE, JAMES BALDWIN & GEORGE JACKSON
(BELOW) DISPLAY OF THE COMMUNITY LIBERATION SCHOOLS & POLITICAL EDUCATION CLASSES
(ABOVE) A DISPLAY WITH HEROES & SHEROES OF BLACK NATIONALISM 
(BELOW) DISPLAY OF BLACK REVOLUTIONARY NEWSPAPERS & PUBLICATIONS CLASSES